Which products on the Amazon platform sell well? This TOP 6
时间:2020-10-29 17:07  点击:次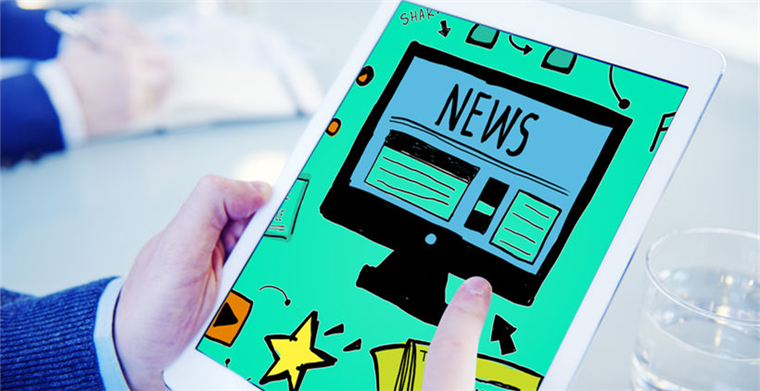 For Amazon novice sellers, it is very difficult to find suitable products due to the high competition in the market and the wide variety of products. As a seller, you need to know which product categories on Amazon generate more sales.
This article will take you to understand which categories of products on the Amazon platform have created more sales.
Features of Amazon's hot products
1. Able to meet specific needs. As a seller, market research is the first step in choosing a product. You need to provide products that can solve the pain points of your audience based on the pain points they encounter.
2. It can bring a lot of traffic. High-margin products can attract a large number of views and sales. But also pay attention to avoiding products in the category of those big brands, because it may be difficult for you to compete with them. You need to focus on niche categories that can bring stable traffic.
3. More favorable comments. Most customers research products online before purchasing them. Most of the products in the hot product category have thousands of reviews. If there are more favorable comments, then customers are more likely to choose the product.
4. Use Fulfillment by Amazon (FBA). One of the reasons customers use e-commerce shopping is to get fast delivery. Using FBA can deliver products accurately, efficiently and in time.
Popular product categories on Amazon
1. Toys and games
Every few months, animation studios such as Disney and Pixar will launch new movies for children of all ages. Each movie will have surrounding toys, games and gadgets.
In addition to movie-themed toys and games, there are also wise games and general games. Amazon will publish an annual holiday toy list. Whether customers plan to buy products for birthdays or holidays, they can use the list to learn about the top 100 toys and games that are selling well. It can be seen that buyers are more likely to buy the goods in the list.
As a seller, you can use this list to analyze which toys and games are more popular with children.
Another useful resource is Amazon's best-selling product page for toys and games. The products on these pages will be ranked according to the sales volume, and the product ranking is updated every hour, so you also have the opportunity to enter the ranking and let customers see your products.
Currently, the most popular toys are STEAM (science, technology, engineering, art, mathematics) related toys. Other popular toys and games include water toys, LOL dolls, Crayola products, and games such as Jenga and Connect 4:
2. Electronic products
There are millions of products in the electronics category, so in order to help customers make purchasing decisions, Amazon shares the Best of Prime report every year. The list contains products that Prime members have purchased in a particular year.
For example, in the 2017 report, the most popular products are the following electronic products:
Fire TV TV stick and voice remote control;
Amazon Echo Dot;
AmazonBasics cable.
Currently, the most popular electronic products on Amazon include Amazon Echo Dot, Fire TV TV stick, tablet computer and smart plug. All these products have a rating of four stars or more and have thousands of reviews.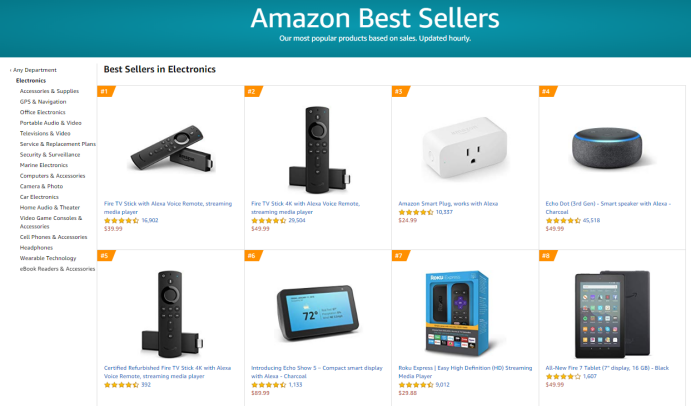 For example, among the eight products shown above, there are three Fire TV stick products. Now that more people watch TV programs online, cable packages have become less common, and products such as Fire TV have become more popular. So selling such products in your store will help bring you more sales.
3. Camera and photos
The Amazon "Cameras and Photos" product category is a subcategory of the "Electronics" category. Products in this category include combinations of cameras, camera accessories, and photographic equipment: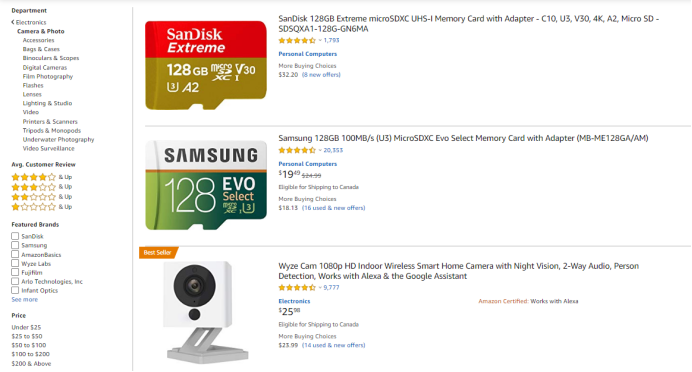 The best-selling products in this category include wireless home surveillance cameras, Fuji Polaroid films, and baby monitors:
Among the eight products mentioned above, five are security or surveillance products.
4. Video games
The video game category is one of the very profitable categories on Amazon. The market value of video games is 100 billion US dollars.
Amazon's "Best of Prime 2018" list shows that "Fortress Night" is one of the most popular video games.
5. Books
In the Amazon bestseller list, adventure novels such as "The Hunger Games", "The Hobbit" and "Divergent" are more popular. Among them, the most popular types of books are children's books, literature and novels, and self-help books.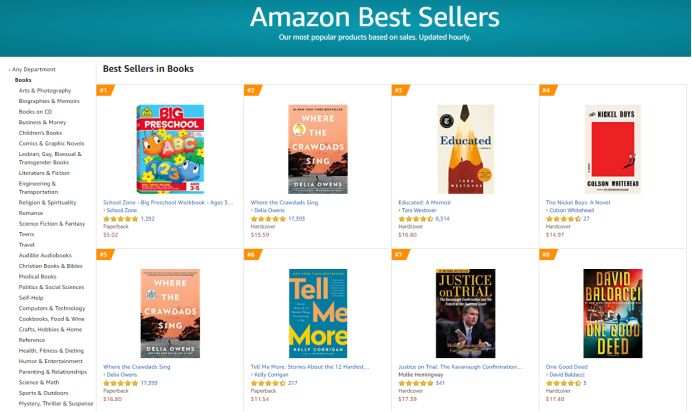 6. Clothing, shoes and jewelry
Amazon has become an online shopping destination for clothing and fashion accessories. According to a survey conducted by Morgan Stanley in 2018, the more popular products in the clothing, shoes and jewelry categories include:
Casual tops (68% of respondents purchased);
Casual pants (38%);
Shoes (48%);
Sportswear (34%);
Accessories (26%);
Dress (23%);
Underwear (24%).
Amazon's current best-selling products in this category are footwear and sportswear:
ASICS and VIFUUR and SIMARI shoes are relatively popular products.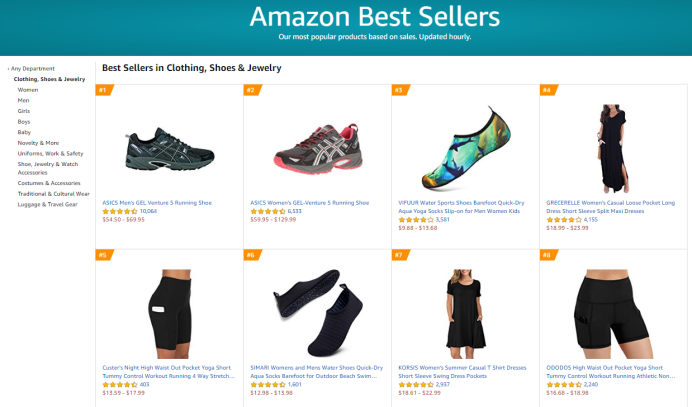 Millennials are a major factor in the success of Amazon's apparel business, and a major factor in the profitability of the apparel category. The same report by Morgan Stanley pointed out that the main reason customers buy clothing on Amazon is that it is easy to shop on Amazon.

(责任编辑:跨境财税)